What to Expect on Your First Visit
Before We Begin...
If you like, you may click the link at left to download and print the Client Information form. I encourage you to complete the form and bring it with you to your first appointment. This information will help determine what techniques to use and how to structure the session.
On your first visit, we'll start by talking about your medical history, your current physical condition, your lifestyle and stress level, any pain you may be experiencing, and why you're seeking treatment.
You will also have the opportunity to ask any questions or discuss any concerns you may have.
The Massage
A typical massage session generally lasts from 30 to 90 minutes. The room in which you receive the massage is warm and softly lit. If you like, there may be soothing music, candles, and/or incense to add a pleasant scent. You'll be asked to disrobe partially or completely (in private) and you will be given a sheet or towel to drape over the areas of your body that are not being massaged. Your modesty will be respected at all times and only the area to be treated will be exposed.
You will lie down on a comfortable sheet-covered table that has a special face-rest, which allows you to lie face-down without turning your head or neck. Usually your massage will move from light to deeper pressure within your comfort range. Any initial discomfort will gradually be replaced by a more relaxed feeling.
Communication is a key factor in the effectiveness of a massage session. If at any time you feel uncomfortable, or if the massage itself becomes painful, you should let the therapist know at once. The massage therapist will always try to accommodate you in terms of comfort and warmth.
When the massage is finished, the feeling of deep relaxation will lead to improved energy and vitality.
What's Next?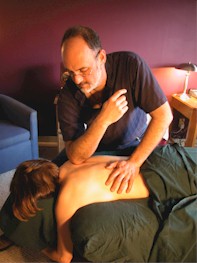 The number of sessions you may require can vary widely. If you are using massage for stress relief, you may want to make appointments as often as once a week. For acute injuries, the number of treatments will depend on the nature of your condition. The massage therapist can also recommend ways to prolong the benefits of your treatment and suggest the frequency of follow-up visits.